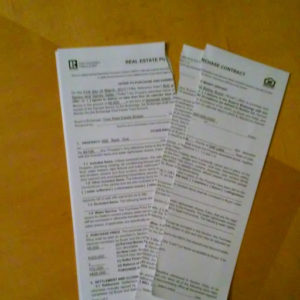 As agents we get the message that our client wants to cancel the contract.  We  hate to have to be the messenger of bad news!  It happens for various reasons. Buyers might flake out! Sellers might get greedy! Life situations change in an instant. Not to long ago I received some calls from a couple of different people who had read my article  online about canceling a contract. They both ran into a similar problem. They were buyers and the seller cancelled the contract. They wanted to know what their rights were.  In both cases the buyers never received any kind of notice in writing from the seller.  Of course I informed these callers that I am not an attorney and cannot give legal advice.  I did listen to them about their problem.
Utah Real Estate Purchase Contract 
In Utah  our Real Estate Purchase Contract  provides specific remedies  and time lines.  Make sure as buyers and sellers that you are aware of specific deadlines in the contract and follow the contract.  Buyers have rights and our current contract can be argued to be more in favor of the buyers. Real estate agents need to get something in writing from the seller or buyer giving notice  that they are canceling a contract. Real Estate agents should provide the other agent of the buyer/seller a copy of the notice.  If your contract gets canceled your agent/broker should be able to help or instruct you on how the company handles such situations.  You can't just cancel a contract without expecting some kind of recourse from the other party.
Realtors Represent Their Clients
We as Realtors represent our clients. We should be doing what they want us to do and explaining thoroughly the possible consequences of what they want to do. This includes breaching a contract which is what a seller or buyer might be doing when they provide notice to cancel a contract.  The other party might be entitled compensation for the damages. Our job as agents is to help the sellers and buyers work through problems. The truth is that in today's real estate market  every transaction has things that you have to work through. It is normal to have things come up that are frustrating.  We get additional signatures, make more telephone calls, texts, emails to buyers and sellers to keep the contracts going.  Why start all over? There is no guarantee that the next situation will be trouble free.
Agents Don't Just Phone, Text  or Email, Get it In Writing
In one of the cases I mentioned the  agent/broker simply called and provided nothing in writing from the seller  to the buyers agent.  Buyers have specific rights and Sellers need to make sure they are being sensitive to those.  This agent/broker called cancelled the contract and took another offer on the property and was allowing another appraisal to be done on the property in a few days! There is a lot more to both stories but the point is sellers and buyers need to read their contracts and make sure that they are following them.  Question your agent if something does not seem right.
Agents/Brokers Need to be More Professional.
I feel that we need to have stricter guidelines in place as a professional organization.  (Board of Realtors) Yes sellers and buyers can make complaints to the local Board of Realtors.  In the end some one may get their hand slapped or have to pay a fine. I feel the fines are not good enough.  This does not help the people having the problem for months trying to get some resolution. These agents that break the professional standards guidelines should loose their license and not be allowed to work as agents for a time depending on what they did that harmed some seller or buyer financially! Typically the same agents do more stupid stuff!
You can't just cancel a contract without expecting some kind of recourse from the other party. Agents should be careful when counseling their clients to cancel a contract.
Teresa Larson Village Real Estate, Murray UT
20+ years real estate experience
(801)750-5446