***Call or text our cell phones for quickest response.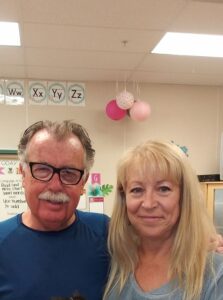 (At grandparents' day! 2019)
Vann Larson 801-580-4233
 [email protected]
Principal Broker, Owner, Sales Agent 
Teresa Larson 801-750-5446
[email protected]
Associate Broker, Sales Agent 

Village Real Estate………..Previously known as ERA Village Realtors for 30 years.  1977-2007 Back then it was a larger scale office with approximately 25 agents to oversee along with actively selling and listing properties. We've scaled back and it is much more fun now!  It is you and us against the world! Let us help you with your real estate needs. We have been through many different real estate situations/transactions, successfully.
We take pride in our work. We pay attention to details and our clients receive the utmost care!  
The best part about real estate is meeting new people and being able to devote time and energy to them.  It is easy to do that now.  Back when we owned and operated a larger scale real estate office. we had to devote time to management of agents, etc.  Today we have down sized so we can be in the field meeting new people, working with new and old clients. That is the best part of working the way we do. We can offer you excellent service and no hidden transaction fees when you work with us! Most if not all Real Estate companies have additional hidden fees. Some go as far as saying no commission or an extremely low commission to lure you in! They then charge the additional fees it is all in the contract you sign but most people do not read the fine print and are surprised at closing. No surprises with us.
We know the drill! Let us help you with your real estate needs!
Members of:  The Salt Lake Board of Realtors, The Utah Association of Realtors, The National Association of Realtors,  CRS Certified Real Estate Specialists-(a national affiliation that supports realtors being professional and continued education in the field), BNG-Broker Network Group (A local network of approximately 30 small offices like ours that meet bi-weekly to discuss the local real estate market trends, our listings,  and our buyer client needs.)
Village Real Estate
P.O. Box 915 Sandy, UT 84091
office (801) 263-0878